We are all operating in uncertain times, and it's more important now than ever to come together across the world and help those in need.
In the fight against the COVID-19 global pandemic, ByteDance is supporting health workers, local communities, businesses, educators and students across our platforms and in different markets. Specifically, we are working with international and local partners to help people stay safe, informed and connected by providing critical information, resources and support for our communities worldwide.
Like many other companies, we have undertaken a variety of initiatives to help those fighting COVID-19. These initiatives will provide resources to those on the frontlines and relief for affected communities. In addition, we are committed to supporting our employees so they can provide our users with timely, relevant and accurate information through our products.
Here, we outline a series of initiatives that we have undertaken to fight this worldwide public health crisis. As we continue to focus on ways to support our global communities, we encourage you to visit this page regularly for updates and new information.
A Global Commitment
Through a series of global and local efforts, ByteDance is committed to help fight the COVID-19 global pandemic. We are using our family of products to deliver critical information, provide important resources, and partner with communities and organizations that are playing a pivotal role in overcoming this crisis.
In March, we announced a $10 million donation to the World Health Organization's (WHO) Solidarity Response Fund. Through this fund, the WHO has:
Shipped more than 1.5 million diagnostic test kits to 126 countries
Provided over 1.8 million pieces of personal protective equipment — including N95 masks, gloves, and gowns — to hospitals and health clinics in 75 countries
Created 23 online training modules across six languages to educate health workers throughout the globe on how to safely detect, treat, and prevent the spread of the coronavirus. More than 800,000 responders have signed up for these online courses
TikTok joined the Bill & Melinda Gates Foundation in donating $10 million each to the vaccine alliance GAVI to fight the COVID-19 pandemic in Africa. The funds will be used to distribute new vaccines against the virus once they are licensed
Additionally, we have made Lark, our digital collaboration tool, available for free to businesses, schools and other educational institutions in several regions throughout the world.
Funding for Those In Need
Through three funds and additional initiatives, TikTok has committed $250 million globally in markets across the world to support health care workers, global organizations, educators, first responders and vulnerable communities directly impacted by the pandemic.
TikTok Health Heroes Relief Fund: $150 million in cash donations to trusted NGOs and global organizations to provide medical supplies and hardship relief for healthcare workers on the front lines of the crisis
TikTok Community Relief Fund: $40 million commitment, as well as a $10 million matching donation, to local organizations for critical programs needed by communities to combat the impact of COVID-19
TikTok Creative Learning Fund: $50 million in grants to educators, professional experts, and non-profits to help spread educational information and useful course material in an accessible, distance learning format
In addition, TikTok is providing free ad space to trusted sources, including health authorities and local governments seeking to deliver crucial public health information. As businesses are re-opening and working to get back on their feet, the platform will be offering $100 million in ad credits for extended support.
Creative content on TikTok has played an important role in all our markets by supporting users during this difficult time. Examples include: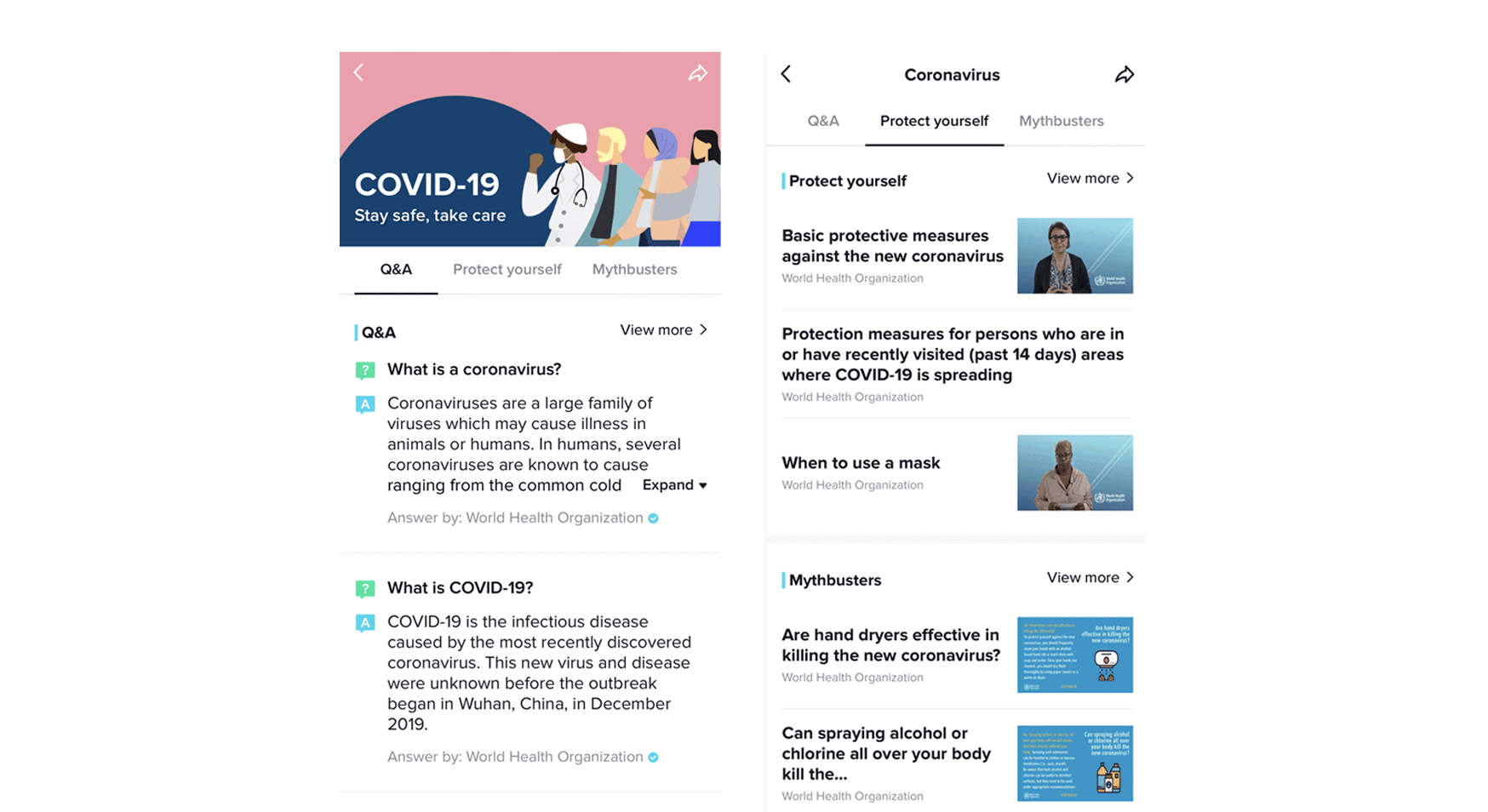 Commitments/Actions by Market
United States
$15 million to the CDC Foundation for hospitals to address staffing and materials shortages
$5 million to support students and educators, including the National PTA and After-School All-Stars to provide food for students and families that rely upon US school lunch programs
$4 million to support the creative industry, including $2 million for MusiCares, an organization supporting artists, songwriters, technicians, crew, and other music professionals during this crisis and $2 million to The Actors Fund COVID-19 Emergency Financial Assistance program
$4 million to the service industry, including $2 million each to the National Restaurant Association Educational Foundation (NRAEF) Restaurant Employee Relief Fund (RERF) and the James Beard Foundation Food and Beverage Industry Relief Fund
$4 million to support families through $2 million for No Kid Hungry and $2 million for Meals on Wheels
As of April 10, nearly 600,000 masks have been donated to hospitals across the country:
California -- 198,000
Michigan -- 100,000
New Jersey -- 100,000
Louisiana -- 100,000
New York -- 50,000
Washington -- 50,000
$50 million to support doctors, medical workers and front line responders who are putting their lives on the line every day
$15 million in grants to educators, professional experts, and non-profits who are helping spread educational information and useful course material in an accessible, distance learning format.
$3 million in matching funds for local organizations supporting communities and workers significantly impacted by the pandemic
In the UK, TikTok will donate more than $6 million through the Health Heros Relief Fund to provide emergency funding to thousands of frontline healthcare workers who are in need of immediate practical financial support, as well as psychological support both during and after the coronavirus emergency.
Indonesia
More than $6 million to address the needs of medical workers, including masks, hazmat suits, safety glasses, medical gloves and other critical supplies
Philippines
$1 million for the Philippines General Hospital Medical Foundation to benefit doctors and medical workers who are working around the clock to care for those who are sick
India
More than $13 million towards medical equipment including 400,000 hazmat protective suits and 200,000 masks.
TikTok's #GharBaithoIndia campaign features users at their creative best while at home and includes celebrities and popular creators such as Shilpa Shetty, Riteish Deshmukh, Yo Yo Honey Singh, Aariz Sayed, and Shivani Kapila. Additionally, the TikTok Live Streaming session features a diverse range of content related to music, food and Edutok.
TikTok users participated in #FightWithDarkness campaign supporting the Prime Minister's national appeal to switch household lights for nine minutes on April 6. Celebrities such as Shilpa Shetty Kundra, Urvashi Rautela, Sudheer Babu and Jay Bhanushali along with popular creators including Rishabh Puri and Ritika Badiani took part by lighting candles in a display of unity.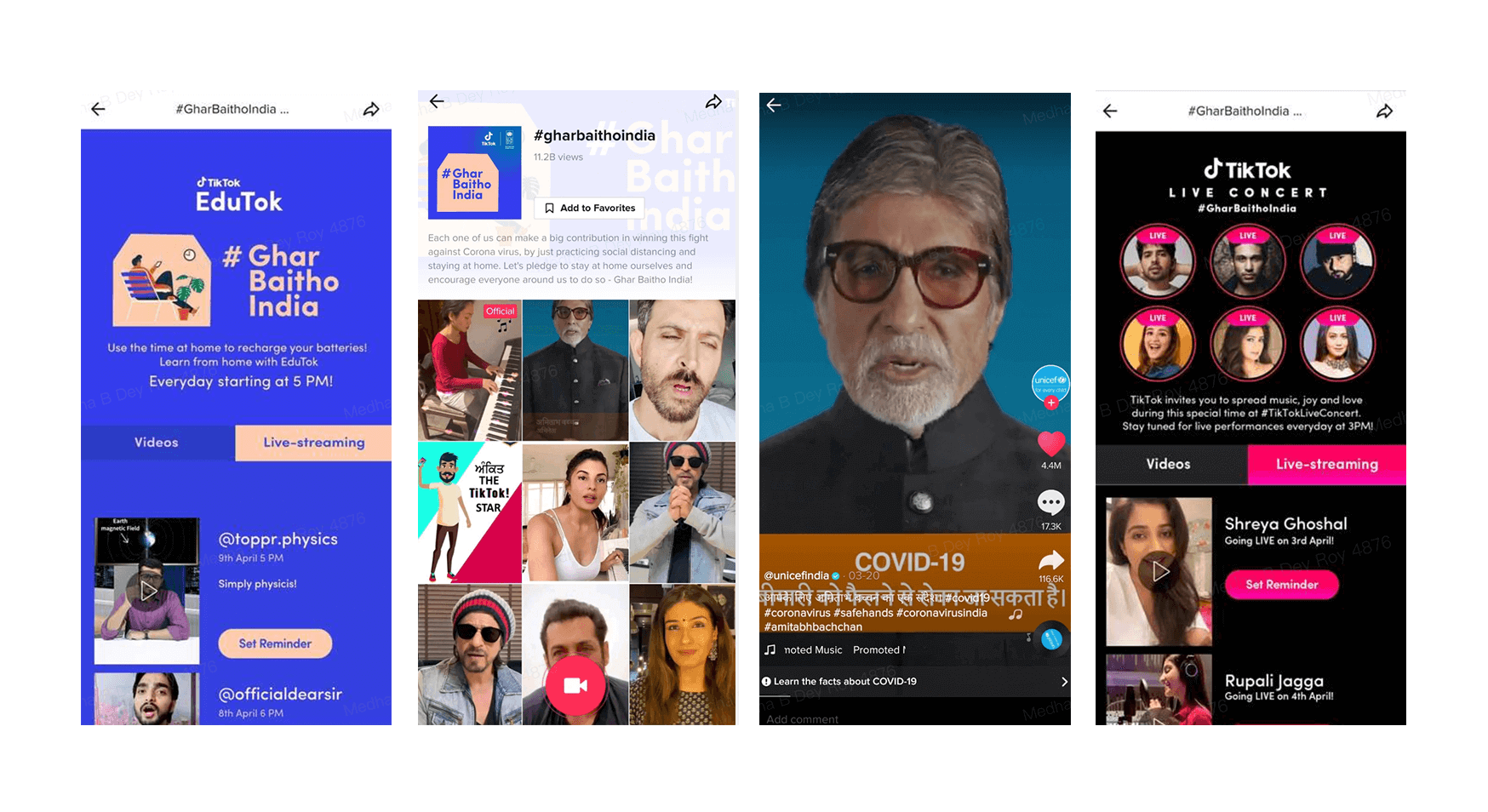 Helo has donated nearly $1 million towards the COVID relief efforts in India including more than $650,000 for Give India and Action Aid towards as part of #MainBhiCOVIDWarrior campaign to support 20,000 economically disadvantageous families with a month long supplies of essential food and sanitization kits as well as more than $260,000 for PM and Maharasthra CM's COVID Relief Fund.
Helo collaborated with Jjust music and Cape of Good Film on the music video 'Muskurayega India', featuring Akshay Kumar, Tiger Shroff, Kriti Sanon, Kartik Aaryan, Taapsee Pannu, Kiara Advani, Ananya Pandey, Shikhar Dhawan and more.
The platform established the hashtag #FightAgainstCoronavirus to facilitate timely updates in 14 languages and is live streaming critical information and government initiatives content from the Honourable Chief Ministers of Kerala, Delhi and Andhra Pradesh.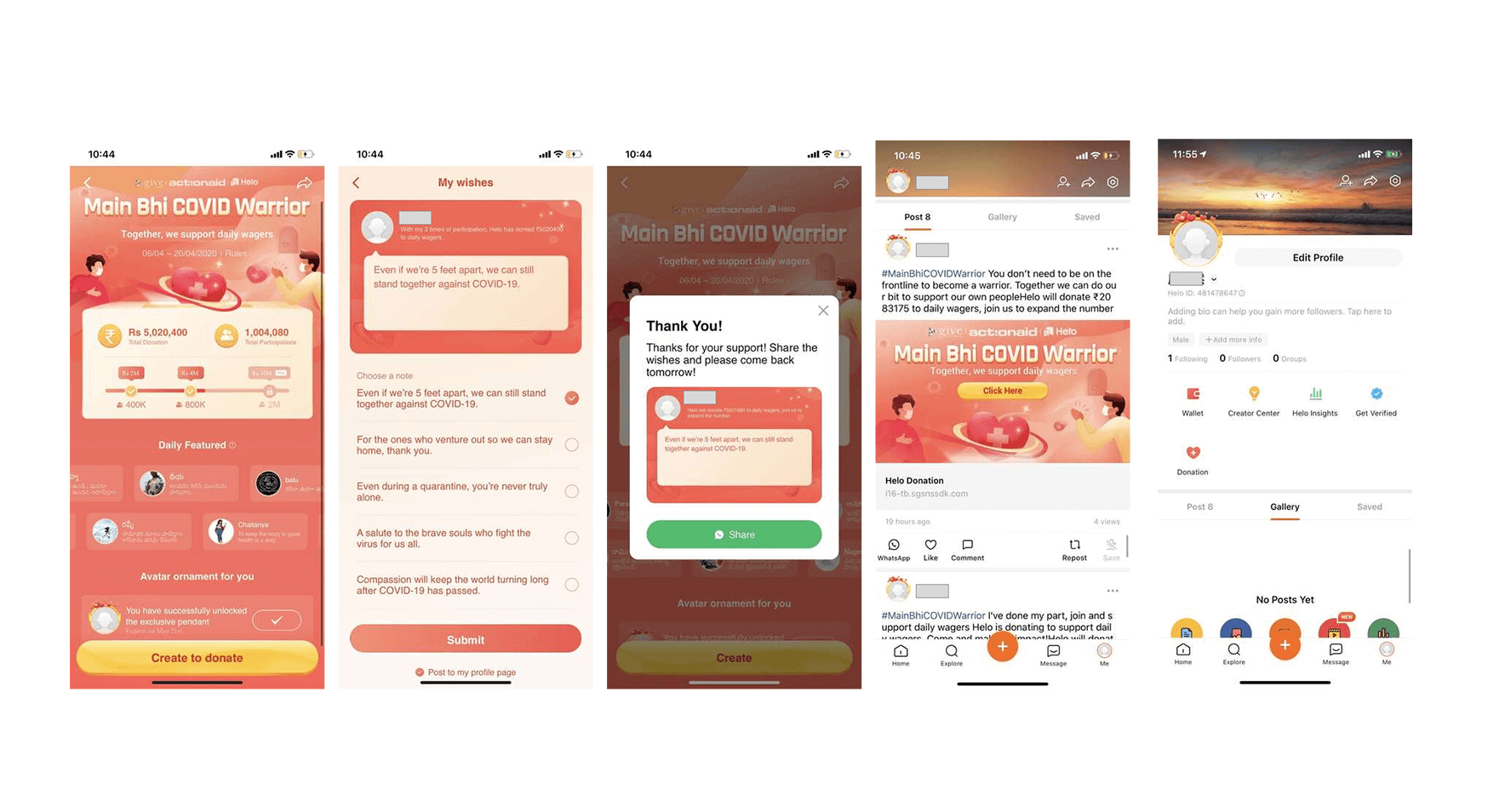 Japan
Partnering with the famous pop duo group Kobukuro, TikTok Japan held a live concert for students and family who missed the graduation ceremony due to COVID-19. The concert attracted more than 42,000 fans.
TikTok Japan is collaborating with Tokyo Metropolitan Government and Kanagawa Prefecture to publish educational videos and host livestreaming sessions.
Lark has been introduced on "VS COVID-19" - an integrated public service website hosted by three Ministries (Cabinet Secretariat, Ministry of Internal Affairs and Communications, and Ministry of Economy, trade and Industry) to support enterprises adapting to the work-from-home style during quarantine.
Korea
TikTok Korea contributed 100,000 masks to the Korea National Red Cross (KNRC), where 40,000 KF94 masks were distributed to the 29 government-designated COVID-19 treatment hospitals in Incheon Metropolitan City and 60,000 surgical masks were donated to the vulnerable groups in Busan.
Through "COVID19-related information" Koreans can access the code of conduct announced by the Korea Centers for Disease Control and Prevention as well as statistics, a Q&A, COVID-19 guidelines on the official website of the KCDC.
China
ByteDance made commitments and launched initiatives in China at the onset of the pandemic:
In late January, ByteDance established the Humanitarian Relief Fund for Medical Workers in partnership with the China Red Cross Foundation. As of April 5, the fund has provided more than $51 million in financial assistance to over 3,100 medical workers -- more than $14,000 per person for those who got infected during the fight against the outbreak and more than $142,000 per family for medical workers who lost their lives while carrying out their duty.
Toutiao, Douyin and Xigua Video are leveraging their reach and features to provide free online learning courses to primary and middle school students.
In addition, ByteDance donated 200,000 KF94 and KN95 protective masks to the COVID-19 Prevention and Control center in Wuhan.
Feishu, a digital collaboration tool, was made available for free for all businesses and organizations.
Douyin is offering $28 million in ad credits to small and medium-sized businesses to help them get back on their feet. In addition to free ad space, Douyin, Toutiao and Xigua Video are providing resources worth $24 million to help farmers and businesses sell local produce and their products via live-streaming.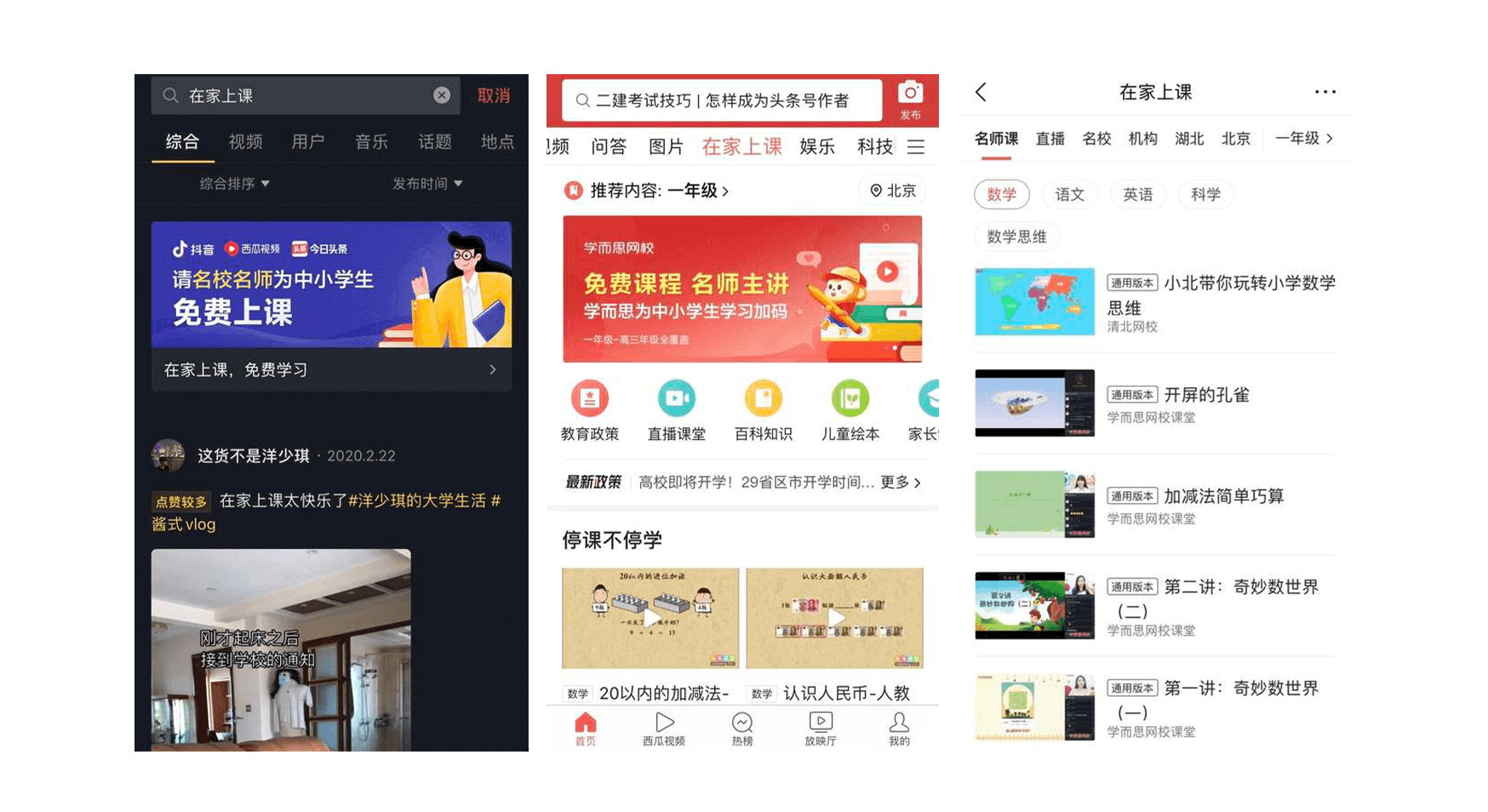 Protecting Our Global Employees
In order to serve our community effectively during this time, it is critical that we protect our employees. This is one of our highest priorities. As part of this, we have mandated a work-from-home policy for all employees and are supporting them as they continue to ensure our platforms and resources remain available to you. In addition, we are matching donations from our employees to critical organizations. We continue to evaluate the current situation on a daily basis to provide the best support for our employees around the world.
We are dedicated to continuing to help those in need, those fighting COVID-19, our employees and everyone who has been impacted by this pandemic.